The 65th Cannes Film Festival got underway this week. The week-long event brings together celebrities and stars of the silver from all over the world, which in turn, means we get a whole lotta glamour! Maybe it's because it's the French Riviera. Maybe it's because it's invite only and the prestige of it all. Whatever the reason the Cannes red carpet always delivers, so today's Friday Favorites are my favorite looks from day 1 and 2. (Do not fret. I plan on tracking the entire week. This is just the beginning).
I tried to write little something about each woman and/or dress, but was overcome by the stunningness and found myself sitting mouth agape, unable to come up with anything but monosyllabic adjectives and gems like "oh my wow" and "seriously?" Not exactly an eloquent review, so I'm going to let the photos speak for themselves for the most part. My guess is you'll have similar reactions. If not, tell me who are your favorites so far.
Diane Kruger in Giambattista Valli (Photo: AFP)
Marion Cotillard in Dior (Photo: Pascal Le Segretain/Getty Images Entertainment)
Eva Herzigova in Dolce & Gabbana (Photo: PacificCoastNews.com)
Jane Fonda in Atlier Versace (Photo: PacificCoastNews.com). Sister can still rock a dress!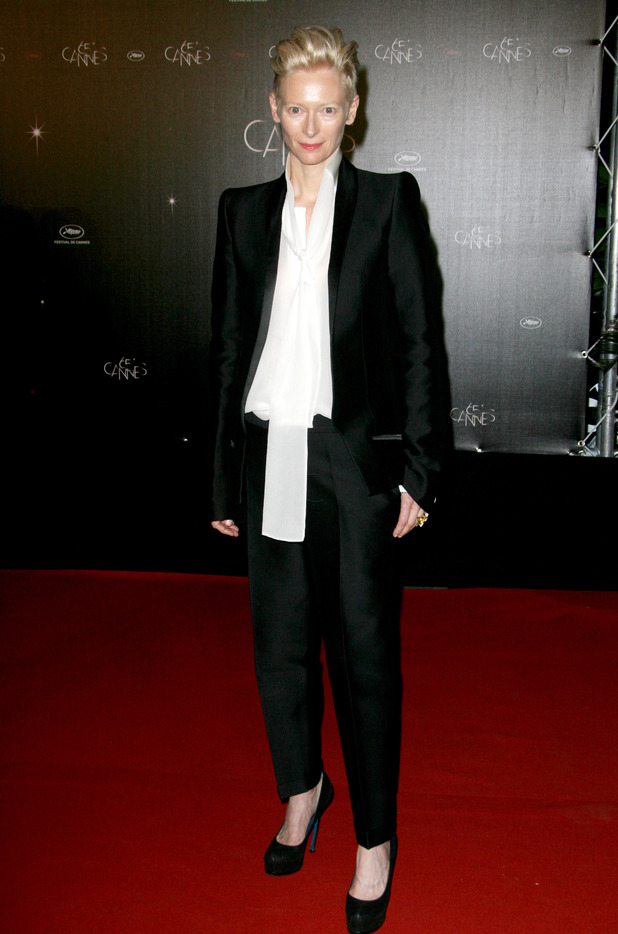 I've said it before and I'll say it again, I find Tilda Swinton absolutely fascinating. Sometimes she looks hideous. Sometimes she looks lovely. Sometimes she looks like an androgynous work of modern art. FASCINATING!! For the opening ceremony on Wednesday, she went with "menswear" inspired looking by Haider Ackerman. (She is his muse afterall). (Photo: Rex Features Matt Baron/BEI/Rex Features)
I can't decide if I love or hate this one. It's certainly unique.
Fan Bing Bing in Christopher Bu (Photo: Pascal Le Segretain/Getty Images)
Given that Cannes is a film festival, I suppose I should mention at least one film. I am really excited to see the latest from the oh-so-quirky, Wes Anderson (Rushmore, Bottle Rocket, Royal Tannenbaums), Moonrise Kingdom which kicked of Cannes on Wednesdays.
There's part of me that thinks a general audience will be immediately put off by the off kilter production design, the reticence of some of the dialogue, and the odd timbre of films tonality. It's different. It's almost creepy. Some may hate this film. Those people are idiots. I shall hereby ignore them for the rest of this review.  Moonrise is an absolute delight, and I shall fight anyone that feels otherwise.
-Jason Gorber 2012 Cannes Review
From what I can tell from the trailer (you can watch it here), there are going to be some great clothes along with the oddity of it all.
Cast of Moonrise Kingdom at Cannes (Photo: AFP)
Any films you're anticipating? Who were your favorites? Oh, and HAPPY FRIDAY!